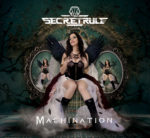 Finally we reveal the details of our new album 'Machination'…
The tracklist is as follows:
1. Ex-Machina
2. The Saviour
3. I Have The Sun
4. Dolls
5. I Will
6. The Image
7. You're The Player
8. Your Trap
9. Foolish Daisy
10. Short Stories
11. A Mother
As you know, "Machintion" includes notable musicians such as keyboardist Henrik Klingenberg (Sonata Arctica) and drummer Sander Zoer (ex Delain).
The album will be released this summer on Scarlet Records. The album has been produced, mixed and mastered by Tue Madsen (The Haunted, Moonspell, Dark Tranquillity) and features special guest appearances by Stefan Helleblad (Within Temptation), Timo Somers (Delain), Fabio D'Amore (Serenity), Janneke de Rooy (Paper Doll Decay). A full European tour will follow the album release, with additional dates to be announced throughout the year.