Angela Di Vincenzo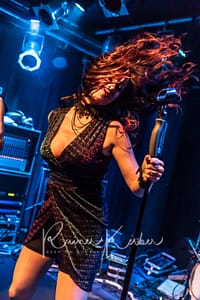 INSTRUMENT: Vocals
PLACE OF BIRTH: Mazara Del Vallo (Italy)
EQUIPMENT: Sennheiser 945 Wireless / Sennheiser Wireless System EW300 in-ear monitor
FAVOURITE BANDS/ARTISTS/COMPOSERS: Nightwish, Within Temptation, Anathema, Anouk, Lacuna Coil, Dark Tranquillity
FAVOURITE ALBUMS:
Nightwish – Wishmaster, Imaginaerum
Within Temptation – The Unforgiving, The Silent Force
Lacuna Coil – In a Reverie, Unleashed Memories, Comalies
Anouk – Urban Solitude, Graduated Fool
Anathema – Alternative 4, A natural disaster, Weather System, A Fine Day to Exit, Judgement
Dark Tranquillity – Projector
HOBBIES AND PASSIONS: comics, video games, TV series, drawing, role playing (Dungeons & Dragons), Warhammer
FAVOURITE DRINK/FOOD: tea, herbal tea, potatoes!
FAVOURITE MOVIES: The Crow, Edward Scissorhands, Finding Neverland, Titanic, Donnie Darko, Le Fabuleux Destin d'Amélie Poulain, Coraline, Forrest Gump, Pulp Fiction, Kill Bill, Back to the Future
FAVOURITE TV SERIES: Orphan Black, La casa de papel, Dark, Black Mirror, Russian Doll, Sense8, Strangers Things
A LITTLE ABOUT HER:
I'm an Italian singer and songwriter.Since I was a child, I spent most of my time in singing (my mother called me "cicada" LOL) and dreaming (often daydreaming).I started to sing when I was 2 years old, I still have recordings that proves I was singing all the time!I was almost 15 years old when I joined my first rock band: we didn't play covers but our songs.
I was a very good student at school and I always had the best school grades. Since I was a child, I believed in aliens (I hoped the aliens would have come to take me away from the Earth) and in fairies; I am fascinated by fantasy worlds, time travels, parallel universes and similar things.
I founded the band Kyla Moyl in 2004 and I made a demo of 5 songs. For many years, until 2010, I changed a lot of band members because I didn't find the right lineup to push the band ahead.
Meanwhile I tried to join different projects of different genres as well. I sang 5 songs for a solo Italian project called Limite Invalicabile available on i-Tunes; I wrote the song Visione. But this wasn't my path, though. I always hoped to find someone to arrange my metal songs and I kept writing. Then I was chosen for singing the main theme of the Italian version of Hello Kitty called Imparando con Hello Kitty; I also sang other songs of the episodes (you can find them on YouTube).
At the end of 2013, I had a call from Andy Menario (we've already met in 2002 in a temporary symphonic metal project, but then we took a different roads). Andy asked me if I was available to found a new band: I was, and I sent to Andy all my old songs. This is how the first Secret Rule album Transposed Emotions was born… and the rest is history!