Andy Menario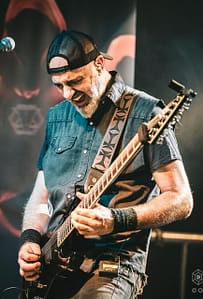 INSTRUMENT: Guitar
PLACE OF BIRTH: Rome (Italy)
EQUIPMENT: ESP/LTD Guitars 7 strings, Gibson Les Paul, LINE6 HX, DV Mark Multiamp, Sennheiser EW300, Shure.
FAVOURITE BANDS/ARTISTS/COMPOSERS: Black Sabbath, Warlord, Rammstein, Within Temptation, Glenn Hughes.
FAVOURITE ALBUMS:
all Black Sabbath's albums
Deep Purple – Come Taste the Band
Within Temptation – The Unforgiving
Metallica – The Black Album
HOBBIES AND PASSIONS: mixing, soccer, build things
FAVOURITE DRINK/FOOD: Weiss beer, good red wine
FAVOURITE MOVIES: The Name of the Rose, Pulp Fiction… sorry, I don't remember the title of other movies 😀
FAVOURITE TV SERIES: La casa de papel, Doctor who (70's version), Game of Thrones
A SHORT BIO:
I was a lazy boy, I wasn't born to study. I started to play when I was around 15 years old, intrigued by Black Sabbath and Scorpions. As an adult, I discovered the Opera making my appearance at the Rome Opera House. I started my journey into music with doom metal, approaching to the sounds of Candlemass and Warlord, to end into the world of Celtic acoustic melodies. After a period of playing cover songs from classic rock to dance, I came back to play metal, discovering again the heavy sounds in my band Martiria, and I was able to collaborate with Vinny Appice, Carlos Cavazo, Jeff Pilson and Carl Sentance, like an author too. In 2014, I was tired to listen to what the modern metal scene had to offer, so I became co-founder of Secret Rule. My principal aim was to create music to listen to during my endless days in Rome! I have two children, two cats and a partner. I'm a calm and jovial person!