ALEX BECCATI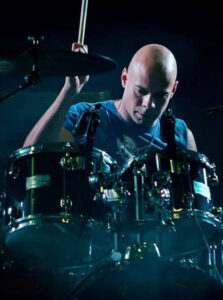 INSTRUMENT: Drums
PLACE OF BIRTH: Rome (Italy)
EQUIPMENT: PEARL drums, UFIP cymbals, PROMARK sticks,
FAVOURITE BANDS/ARTISTS/COMPOSERS: Living Colour, NIN, Filter, Devin Townsend, Skunk Anansie, Lacuna Coil, A perfect Circle, Faith No More, Angra
HOBBIES AND PASSIONS: Reading books, Watching TV-Series.
FAVOURITE MOVIES: Midnight Express, Apocalypse Now, First Blood, The Kingdom, Shining, Enter the Void, Martyrs (P. Laugier), Last Shift, The Deer Hunter, Ju-on (2002), Europa Report
FAVOURITE TV SERIES: X-Files, The Dark, Stranger Things, GOT, The Closer
A SHORT BIO:
My first approached music in 1990, only two years old, playing continuously on a toy battery. Thanks to my brother and my father I deepened my musical culture as a child, growing on bread and music: Pink Floyd, Dire Straits, Genesis, Toto, Queen, and many others. Over the years I began my first private drum lessons and gradually approached the rock / metal scene: at the age of 14 I played in cover band teenage bands, one of which was a tribute to Iron Maiden, with which I experimented with the first live performances. In 2003 I began to study assiduously and continuously and my power to instrument approach was increasingly evident, tackling very intense studies of the double pedal technique. From 2011 I beginned an intense live activity, thanks above all to a tribute band of Vasco, an artist of national fame: from here, the possibility to share the stage with musicians of a certain level: Andrea Innesto, Claudio Golinelli, Alberto Rocchetti and to play as a special guest before Stef Burns. Joins Infinita Symphonia in 2012, a metal band that boasts collaborations with: Michael Kiske, Tim " Ripper " Owens, Ralph Scheepers, Blaze Bayley. Since 2014 I'm a student at Saint Louis College Of Music, one of the most important music schools on the European scene. From August 2019 I'm an active and official member of the Secret Rule.